The experience made for you.
Make your experience an adventure, a lived experience. Make your stay a journey, something that makes you feel good, that enriches you, that reactivates the balance between mind and body.
Stacca la spina dalla frenesia quotidiana e ritrova la pace dei sensi. Scopri le bellezze del nostro territorio e parti per un viaggio che ti permetterà di riscoprire la tranquillità che solo la natura sa dare.
Experiences designed for you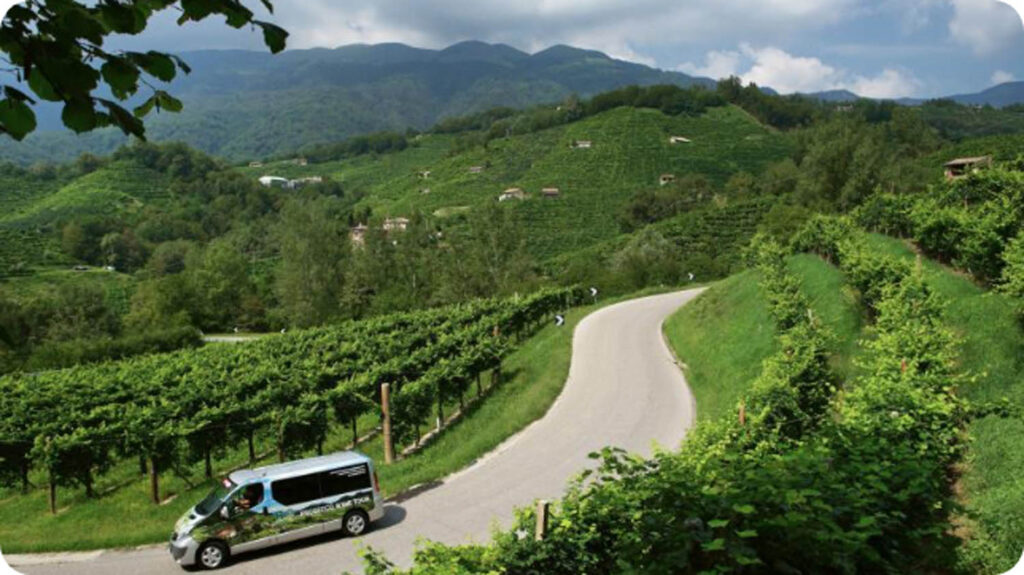 Learn all about the Prosecco Superiore Hills, thanks to our minivan tour in the heart of the Prosecco Superiore DOCG production area! Enjoy the wonder of getting lost among rows of vines, vegetable gardens, olive trees, fortresses, castles and austere abbeys on the hills of Conegliano – Valdobbiadene Prosecco Superiore DOCG.
Contact us for more information.
...
On a Vespa in the Prosecco Superiore Hills
The Prosecco Hills riding on a Vespa, a unique way to start your vacation between Vittorio Veneto, Valdobbiadene and Bassano del Grappa. Follow winding itineraries that stretch through gentle ups and downs where the best Prosecco is born.
Contact us for more information.
...
Prosecco Wine Tasting: taste Prosecco like a real connoisseur
You will taste the best Prosecco of the territory, through the three types produced here: dry, extra-dry and brut. You will get to know their many nuances, learn how to distinguish their characteristics and what differentiates them, how Prosecco is produced and much more.
Contact us for more information.
...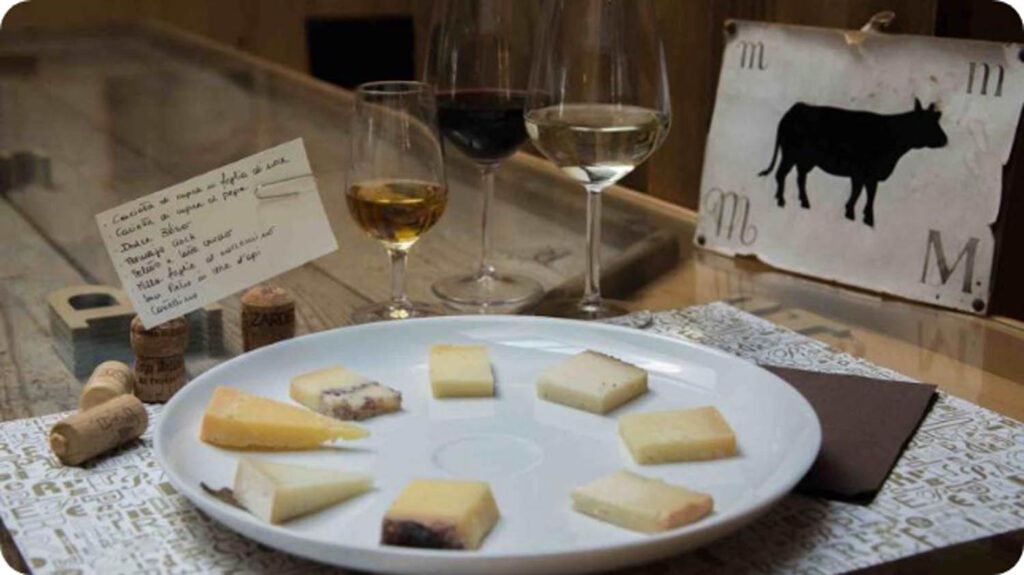 Cheese & Wine tasting: taste the Prosecco Hills
You cannot say that you fully know the Prosecco Hills without having tasted and appreciated the good wine produced here, perhaps accompanied by seasoned, blue or marc-aged cheese.
Contact us for more information
...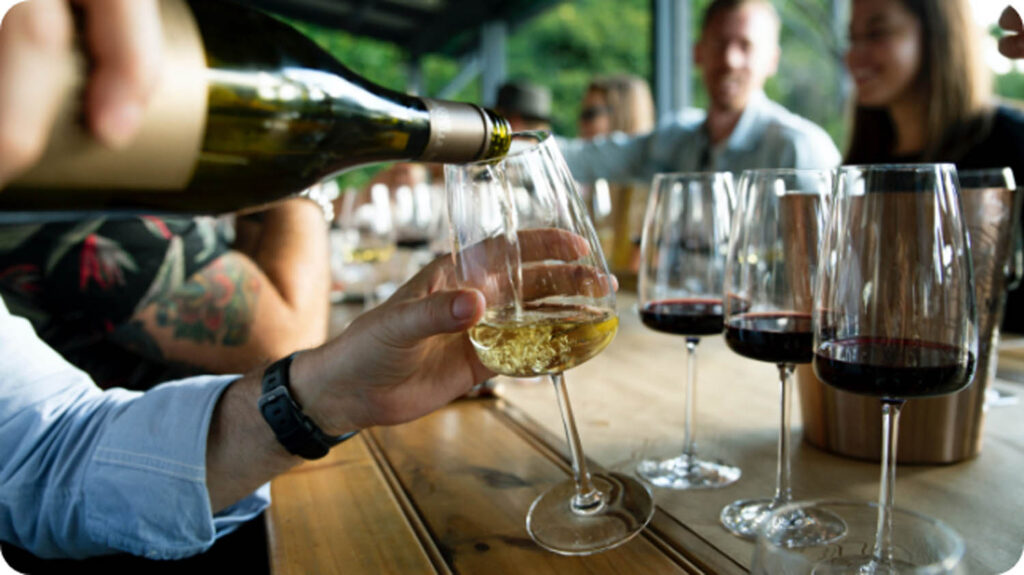 Experience taste and tradition
This experience in Caneva de Ezio is arranged by reservation and built according to the needs of our guest. Traditional products are tasted and accompanied by glasses of wine.
The cost is based on the request and needs of the guests and what they will taste.
...
Bike & Fly on Monte Grappa: the Best Flying Field in Italy
Free your mind and let our mountain bike guides take you to explore Monte Grappa as you have never experienced it before. You can decide whether to tackle the ascent on a pedal-assisted (E-MTB) or muscular mountain bike. And the descent? Paraglide with one of our guides and touch the sky with one finger while enjoying a breath-taking panorama framed by Venice on the horizon.
Contact us for more information
...
The Belluno Dolomites on a Vespa
Rent a Vespa and explore the National Park of the Belluno Dolomites, in an exciting itinerary along the Lake of Santa Croce all the way to Longarone: 140km immersed in the National Park of the Dolomites. You can also visit Erto and Casso, the two mountain villages cancelled by the tragedy of the Vajont dam.
Contact us for more information.
...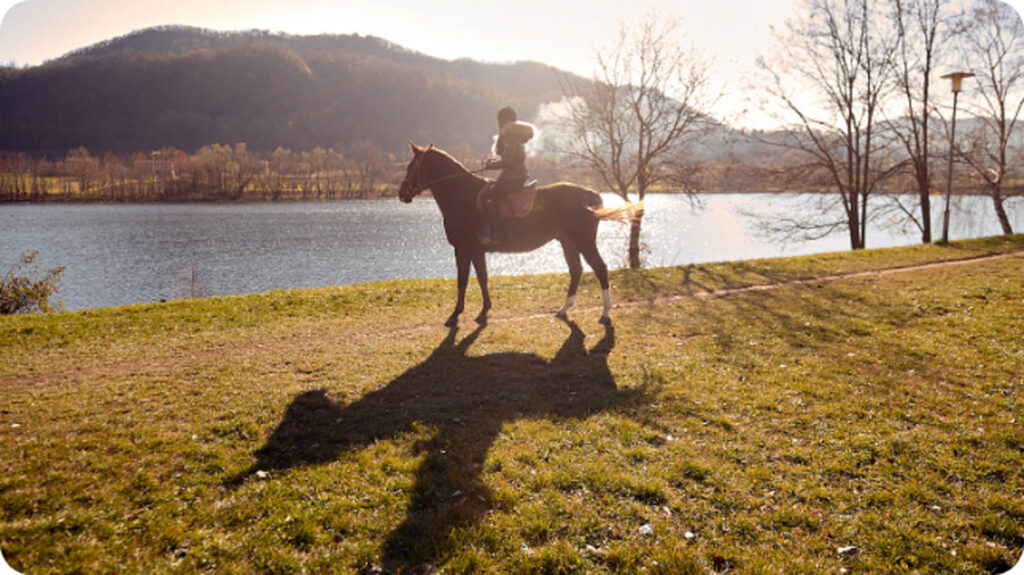 Horse riding on Lake Revine
Horse riding is a unique experience, that everyone should enjoy at least once in a lifetime. The territory that surrounds our resort allows you to go trotting or galloping on the saddle of one of our amazing horses.
Contact us for more information
...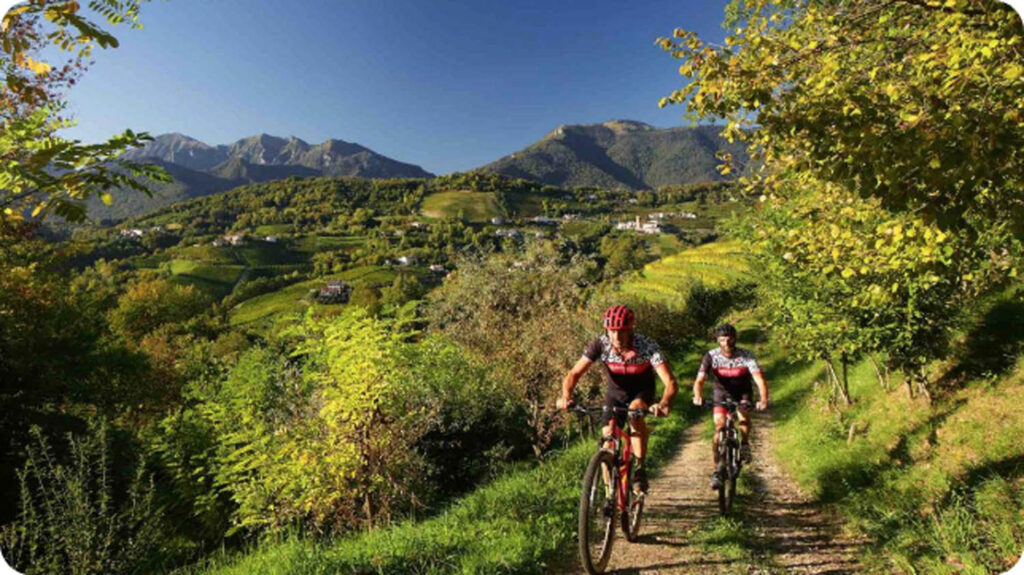 E-MTB or Mountain biking in the Prosecco Hills
If you want to enjoy your cycling holiday in the Prosecco Superiore Hills, the E-MTB will certainly help you while the mountain bike will put your muscles to the test. You just have to choose the bike you prefer. The Prosecco Superiore Hills are a succession of ups and downs between vineyards, wineries and rural villages.
Contact us for more information.
...
The Cansiglio Forest by mountain-bike
Ride through beech woods, white and red firs. Watch the squirrels climbing the trees from afar. Admire the herds of deer that have found their ideal habitat in this forest. The Cansiglio Forest is an enchanted corner of the Pre-Alps and a paradise for MTB enthusiasts, who can train here surrounded by unspoilt nature.
Contact us for more information.
...
Valentine's Day Wellness Packages
Warm Embrace
Rediscover together the joy of wellness through the senses, marked by the hammam in the spa.
Welcome with courtesy kit and welcome gift
Purifying savonage with black opium soap
Application of clay powder cascading over the body
Exfoliating massage with kessa glove
Emotional shower for two
15-minute steam bath
Couple face and body massage with oil flavoured with absolute essences
45-minute spa including food and beverage
Duration 2 hours € 280.00 per couple
Sweet Nest
Warm your hearts through the love of life, bringing well-being to the soul.
Welcome with courtesy kit and welcome gift
1-hour wellness path including food and beverage.
Tree of life ritual
Among the clouds
Let yourself be enveloped in a light cloud of well-being with the manoeuvres of a relaxing massage. • Welcome with courtesy kit and welcome gift • Relaxing couple ritual with cloud oil • 1-hour spa treatment including food and beverage
Duration 2 hours € 220.00 per couple
Couple's Hot Stone
Embraced by the warmth of the stones, you will rediscover the well-being of body and mind.
Welcome gift
Massage with hot stones nourished by 'embrace' oil
Welcome food and beverage served in the cabin
Duration 80 minutes € 180.00 per couple
Dolce Vita
Let yourself be enveloped by the sensory notes of sweet orange aroma.
Welcome gift
Dolce Vita brown sugar and sweet orange scrub
Balancing body and face massage with balance oil
Welcome food and drink served in the cabin
Duration 80 minutes € 190.00 per couple
Like in a Cloud
Take your body and mind on a journey with the gentle manoeuvres of the couples ritual, you will feel as light as a cloud.
Couples ritual with cloud oil including the face
Welcome food and beverage served in the cabin
Duration 80 minutes € 170.00 per couple
Food and beverage will be adapted to the booking times of the different times of day.
All packages can be combined with an overnight stay in a Wellness Room with buffet-style breakfast at an additional cost of € 120.00 per room. Valentine's Dinner on Saturday 13 February at an additional cost of € 100.00 per couple excluding drinks.
If available, it is possible to request a Day Use service with room from 10.00 am to 12.00 pm at an additional cost of € 100.00 per room.
...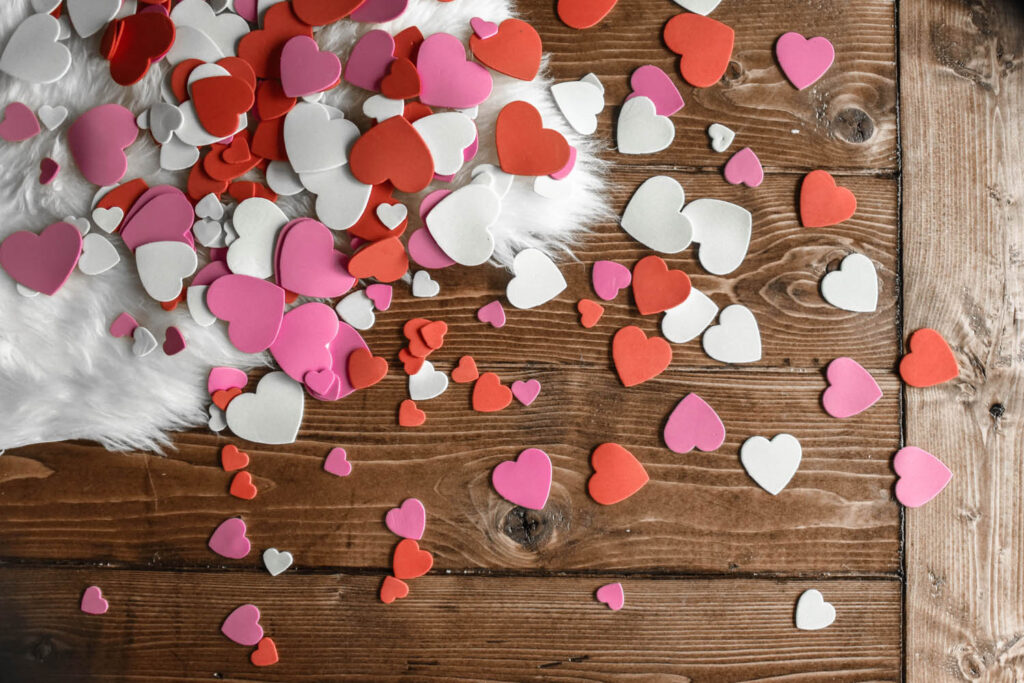 Le Coccole di San Valentino
Stay in a Wellness or Bosco Room Aperitif with glasses of sparkling wine Valentine's candlelit dinner, drinks not included (on 13/02) One hour of Private Spa with couple scrub in steam bath with a sweet gift dedicated to you by the staff (Saturday or Sunday) You can choose to be pampered by the following 60-minute couple rituals: (Saturday or Sunday) - Couple's ritual with candle butter and a sensory journey with essential oils (alternatively a facial or body treatment for Him and Her). - Couple's Hammam ritual with scrub and Aleppo soap and massage with sweet almond oil scented with absolute essences. Or - One-hour horse ride along the nature trails of the lakes Buffet-style breakfast or room service (your choice) Late check out by 6 pm. € 440.00
Massage and private spa treatments must be booked in advance by calling +39 0438 524135. If you would like to be our guests for lunch on 14/02, we will treat you to a special 20% discount on the "à la carte" menu. If you do not wish to use the private spa you have to deduct the cost of € 100.00 from the proposed package.
...
Road bikes, city bikes, mountain bikes, naturalistic sports guide upon request. Garage for bike storage with insurance and corner for small repairs and washing.
Paths away from city traffic, surrounded by nature will make you forget the hustle and bustle, beat stress and make you feel restores.
The holiday is active, the gym is natural and outdoors, ideal for excursions on foot with Nordic Walking sticks, by bike or on horseback.
Cardio fitness gym, spinning bikes, outdoor pool, riding stables with club house and tennis court at our guests' disposal.
AZ. Agricola Agrigallop Asd
Inside the park there is the AgriGallop riding school, which can be the starting point of beautiful horseback rides with an Engea-certified equestrian guide for beginners and inexperienced riders.
The nature trails on the lakes allow you to ride surrounded by nature in complete safety:
Horse riding: € 25.00 + € 3.00 insurance per person, 60 minutes;
Riding lesson for adults: € 20.00 + € 3.00 insurance per person, 60 minutes;
Riding lesson for children: € 15.00 + € 3.00 insurance per child, 45 minutes;
The insurance is daily and can be activated at the time of booking by leaving your personal details at the reception. For guests who want to try the horse riding experience several consecutive days during the week, the insurance costs € 5.00 for 7 consecutive days.
For guests who wish to spend pleasant moments in close contact with this splendid animal, we organise an introduction to the first riding experience and the possibility of rides accompanied by one of our guides.
For the amusement of children, Sissi the mini horse is the stable mascot.
Games and educational activities to introduce children to ponies and donkeys
Games on the saddle with ponies
Grooming, mane braiding, brushing and feeding
Baby walks along the waterways
Picnics in the meadows riding ponies
Outings to the *Livelet Archaeological Park
First riding experience
Summer Camp and Farm Days costs upon request